Improve Campus Safety While Going Green with the #1 Supplier of E-Bikes to Campus law enforcement
Power Bikes fill the extensive divide between the typical squad car and the patrol officer walking the beat with a host of advantages.  Officer safety is always a priority.  For example, an officer can respond to a call at a distance of several miles, utilizing the electric motor, via pedal assist or throttle without being fatigued.  Response times can be greatly improved with the mobility and power of an ebike, especially on a campus.  Several universities have depoyed RECON Police Power Bikes as part of their active shooter response program.  No vehicle can consistently compare in response  time across campus. The ebike can navigate effortlessly through traffic congestion, in off-road conditions as well as over curbs and stairs in an urban environment.  The ebike gives the officer significant advantages over a traditional bicycle.
You can do more with less on a RECON. Patrol a larger area on a more frequent basis while improving response time. All on a lower cost GREEN EV.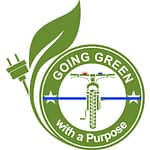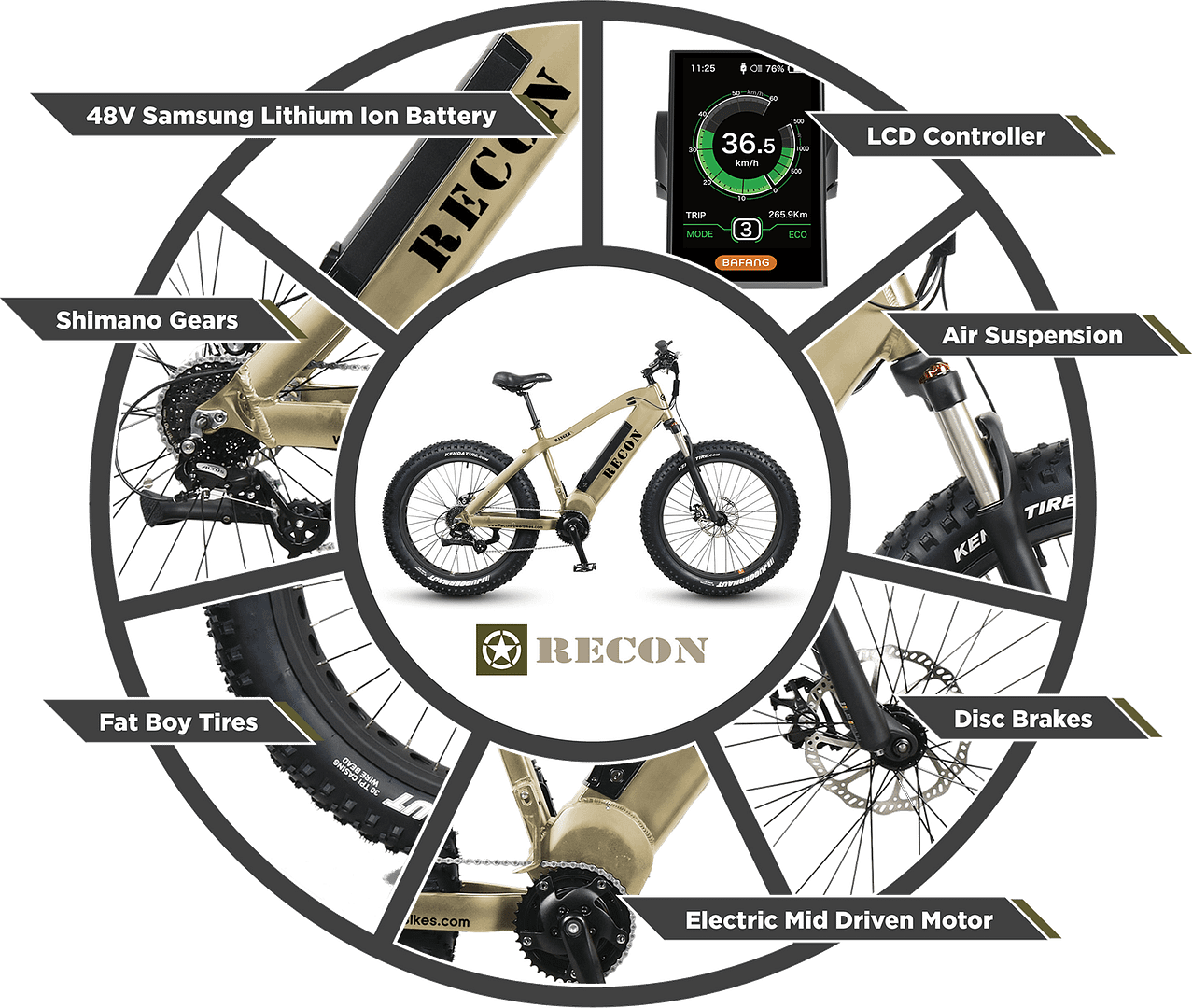 Why Choose Recon Power Bikes?
Response Time- A Officer can travel a significant distance quickly and not be fatigued on arrival to a scene. Going off road and through obstacles.
Coverage – The power bike boost from an electric motor, allows Officers to expand their patrol area and cover more ground with greater frequency. We say "Do more with less on a Recon"
Mobility – They can maneuver through tight areas, crowds and nearly any terrain
Speed – When needed Officers can increase their level of pedal assist and quickly get up to 28 mph and up to 50 miles per charge
4″ Tires – No more pinch flats! Puncture resistant molded in liner. Super comfortable ride.
Cost Effectiveness – Power Bikes offer all these advantages at a cost not much higher than a standard mountain bike with all the additional benefits.
Training – Recon offers a one or two day training course as an addendum to the IPMBA course to train 1st Responders on electric bike riding, maintenance, and tactics.
GOING GREEN WITH A PURPOSE
Los Angeles Pierce College is a public institution in Woodland Hills, California.  It's Campus is located in the Los Angeles metropolitan area with a total enrollment of 22,000.  The school is situated on a sprawling 426 acre campus.
Los Angeles Pierce College sought a mobile solution to enhance campus security in an efficient, cost effective, and environmentally sound manner.  Located on a congested urban campus with limited entry/exit points, the administration wanted to improve response times, patrol efficiency and mobility.  Pierce College chose the electric bike to responsibly address the rigorous campus safety, and security requirements for their faculty and students.
PERFORMANCE TESTING
Real-world performance testing was done on campus to both test the capabilities of the ebikes and to quantatatively determine response times on campus.
RESPONSE TIME - Several time trials were done comparing response time of typical squad car to the response time of a the RECON Power Bike.  On average, the bike improved response times by 15-20% depending on traffic patterns at the College.  This improved response time could be extremely important in Critical situations.
TERRAIN TESTING - The Power Bikes also performed extremely well on the terrain testing.  Trials demonstrated there were no issues on hilly terrain or off-road conditions.  Moreover, the bikes excelled powering over curbs and maneuvering stairs.
SUMMARY - In today's complex security environment, the electric bike offers law enforcement another tool to improve safety, efficiency and response time. All of this with an attractive cost and a green footprint.  The maintenance is relatively minimal and there is no fossil fuel consumption.  Whether in a metropolitan area, campus, park or greenway, the RECON ebike offers a host of advantages and should be considered as a viable alternative to traditional policing vehicles.  Finally, RECON is introducing an LPR (License Plate Recognition) platform for the bike.  This platform will be helpful for parking and investigations.
Testimonial from Texas Christian University Police Department
"I just wanted to drop you a quick email about our experience in purchasing and training on the Recon (Power) bikes we recently received.  Let me start out with the fact that we had never considered e-bikes for our campus.  We had Trek police bikes with little buy-in from our officers."
"Our training day was yesterday.  I can't say enough positive things about the experience.  Dave was exceptional in his knowledge and patience.  We were taught about the features, maintenance and safety protocols we should consider in using these bikes.  He trained our department trainers who in turn will develop a course for the multitude of officers who now wish to ride.  For us this is an enormous win.  From a safety standpoint we now have officers closer to our community.  They have already started to interact more readily than our officers in patrol vehicles."
"The Chief of Police was so impressed with his training session that two more Recon bikes were purchased on the spot.  We now have a fleet of six conventional bikes and six Recon e-bikes, although that may change with the new fiscal year as more officers are taught to ride the Recons."
"I don't often write accolades about our purchasing experiences but this will be the exception.  Dave should be commended for his attentiveness, knowledge and professionality.  I look forward to doing more business with them in the future."
- Commander Steve E. TCU Police Department
ADDITIONAL BENEFITS FOR CAMPUS PATROL
---
The mobility of the ebike paired with the power of electric motor porduce an extremely efficient and effective policing vehicle
RECON bikes utilize a 4" specialty puncture resistant tire that offers some unique advantages. Take a 4-6" curb or stairs head-on without fear of pinch flats. These tires provide an extremely stable and comfortable ride on long patrols.
The SoundOff Signal mPower programmable silicone LED lights are designed to fit seamlessly on the bike. Offering SCENE Lighting, to completely light up a low light situation. The only bike on the market with Scene Lighting. Single, dual and tricolor capability. Smaller footprint with maximized candela output. Running off the main bike battery power.
Training is an important aspect to any Law Enforcement Agency.  RECON offers a certified ebike training course which includes classroom and field training as an adendum to the typical IPMBA training certification.
The benefits of police biking are well documented in terms of positive interactions with the public.  Studies have shown police biking patrol is a good way to engage with the community and bikes are more approachable to the public. The Ebike is quiet with a green footprint.
Get A Quote or Schedule A Demo TODAY!
---
Recon Power Bikes proudly offers a wide variety of all-terrain ebikes to best suit your needs and budget. Take a closer look at each of the best electric Law Enforcement bikes we offer!