The FBI's uniformed police force, part of the Bureau's Security Division patrol the J. Edgar Hoover Building Headquarters 365 days a year, rain or shine. The FBI selected RECON because of the all terrain capabilities, heavy duty construction, and versatility of our powerful electric motor.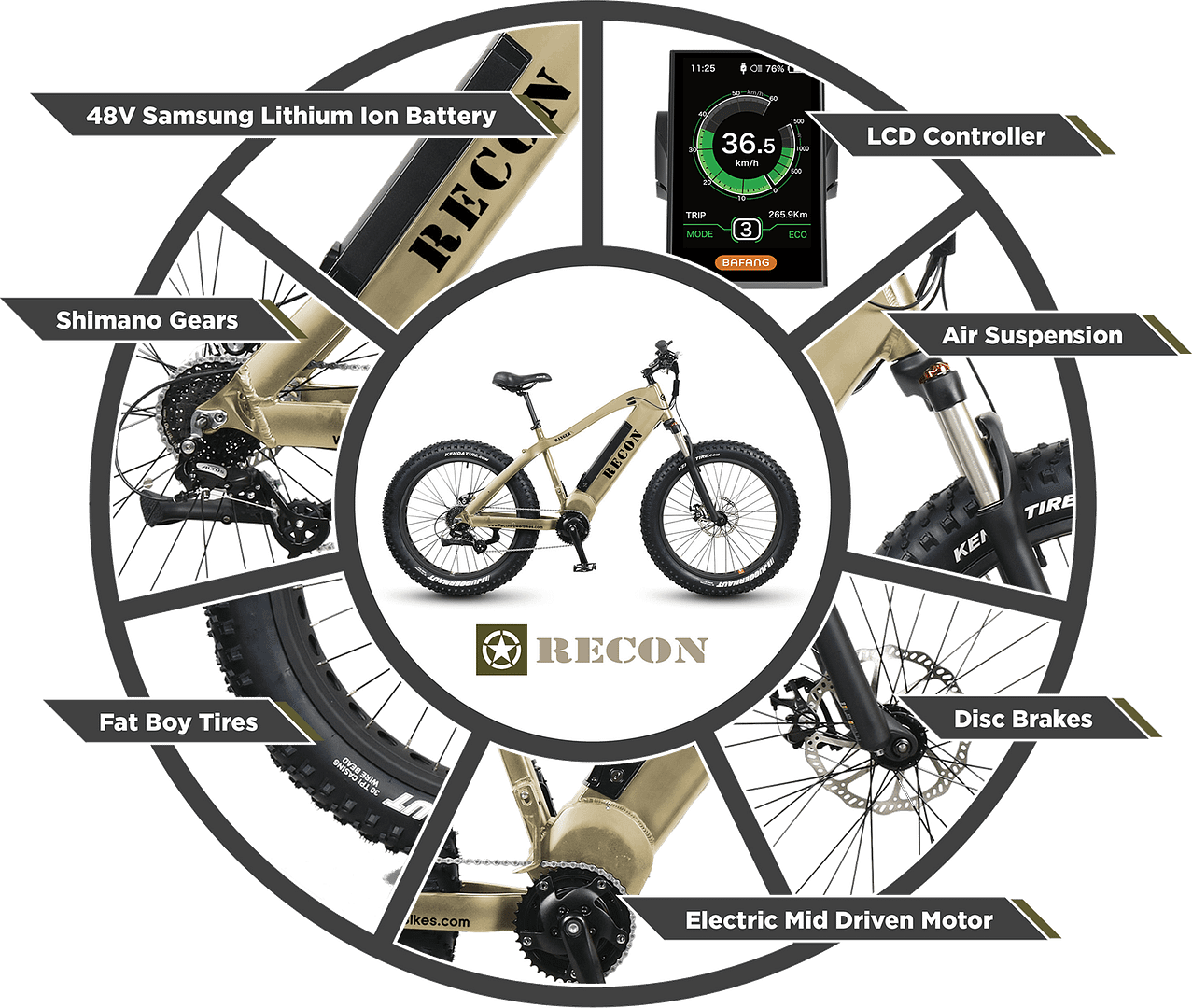 Why Choose Recon Power Bikes?
Response Time- An Officer can travel a significant distance quickly and not be fatigued on arrival to a scene.
Coverage – The power bike boost from an electric motor, allows Law Enforcement to expand their patrol area and cover more ground with greater frequency. We say "Do more with less on a Recon"
Mobility – They can maneuver through tight areas, crowds and nearly any terrain
Speed – When needed an Officer can increase their level of pedal assist and quickly get up to 28 mph and up to 50 miles per charge
4″ Tires – No more pinch flats! Puncture resistant molded in liner. Super comfortable ride.
Cost Effectiveness – Power Bikes offer all these advantages at a cost not much higher than a standard mountain bike with all the additional benefits.
Training – Recon offers a one or two day training course as an addendum to the IPMBA course to train 1st Responders on electric bike riding, maintenance, and tactics.
Patrol Safer, Farther & Faster with RECON
The RECON Power Bike can take you Farther & Faster on Patrol. Our Pedal Assist function will revolutionize your Biking Patrol experience.  Don't worry about fatigue or response time with RECON, the powerful electric direct drive motor can assist you as you see fit. Faster response and less fatigue when arriving on scene equals a safer, efficient, and more successful patrol. Allowing you to travel up to 50 miles on a single charge and speeds up to 28 MPH.
Ebikes are a Flexible Cost Effective Green EV
Bikes can fulfill multiple roles in a wider range of environments than patrol cars/SUVs and can be used in many of the same environments as an officer on foot with faster response times. Bike units can be protect a VIP, monitor the crowd along a route, be used in rural and urban search and rescue, provide security inside dense pedestrian centers, patrol inside buildings whether a mall or apartment complex, and provide highly effective crowd control at demonstrations.
We say; "You can do more with less" on a Recon, patrol more area with greater frequency. All with a lower cost EV and a Green footprint.
Bike units also offer budgetary benefits. Federal budgets are always under scrutiny. When the cost to equip and deploy a new patrol car easily exceeds the $60,000 mark, it is easy to see that a $2,000-$4,000 investment in a patrol ebike is a lot of bang for the buck. For the cost of one patrol vehicle you could equip, train and manage a bike patrol unit for years to come.
Real-world performance testing was done in urban environments to both test the capabilities of the ebikes and to quantitatively determine response times in an urban environment. Several timed trials were done comparing the response time of a typical squad car and pedal bike to the response time of a power bike. Variables during higher traffic times impacted squad car response times, whereas bike times and cutting through congested areas were fairly static. On average, the bike improved response times by 15-20% depending on traffic patterns and pedestrian congestion. This improved response time could be extremely important in critical situations. The power bikes also performed extremely well on the terrain testing. Trials demonstrated there were no issues on hilly terrain or off-road conditions. Moreover, the bikes excelled powering over curbs and maneuvering stairs.
Training is an important aspect to any Law Enforcement Agency. Ebikes are relatively new in the US market and most importantly in the the law enforcement realm. Training and certification is common for regular pedal
mountain bikes, however specialized ebike training is somewhat difficult to procure. Recon offers a one or two day training course as an addendum to the typical IPMBA training and a certification for the law enforcement ebike.