The Military demands a heavy duty dependable all-terrain ebike. Recon produces bikes specially adapted to the needs of the armed forces and can manufacture mission specific ebikes. Whether it be for patrol by the Military Police, a folding jump bike for paratroopers, to insert a sniper team silently, or scanning an airfield for FOD, Recon has a bike for your mission.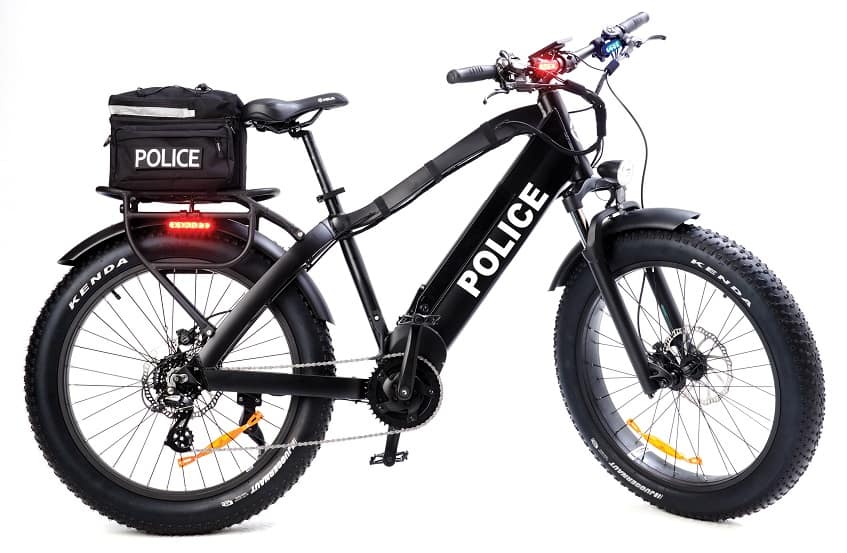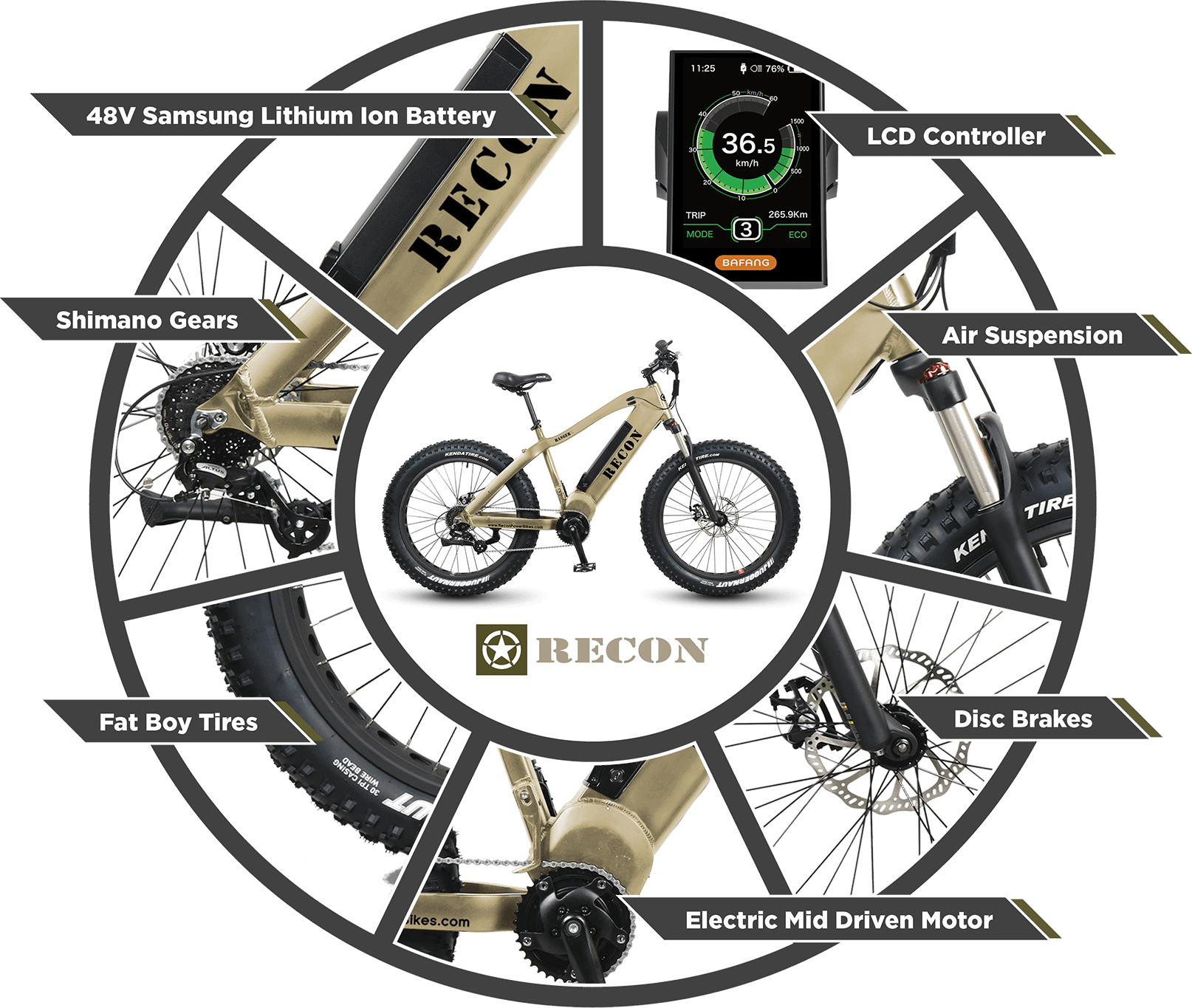 Why Choose Recon Power Bikes?
Response Time- A 1st Responder can travel a significant distance quickly and not be fatigued on arrival to a scene.
Coverage – The power bike boost from an electric motor, allows 1st Responders to expand their patrol area and cover more ground with greater frequency. We say "Do more with less on a Recon"
Mobility – They can maneuver through tight areas, crowds and nearly any terrain
Speed – When needed 1st Responders can increase their level of pedal assist and quickly get up to 28 mph and up to 50 miles per charge
4″ Tires – No more pinch flats! Puncture resistant molded in liner. Super comfortable ride.
Cost Effectiveness – Power Bikes offer all these advantages at a cost not much higher than a standard mountain bike with all the additional benefits.
Training – Recon offers a one or two day training course as an addendum to the IPMBA course to train 1st Responders on electric bike riding, maintenance, and tactics.
Electric Bikes
Featuring a best-in-class 1,000 watt mid-drive motor (Recon Ranger) or 750-watt Hub motor (Recon Commando), both powered by 48-volt lithium-ion batteries, Recon Power Bikes are the best electric mountain bikes out there. Navigate terrain like never before and truly unlock its potential with speeds up to 28 MPH and travel distances up to 50 miles on a single charge.
Our all-terrain ebikes allow you to complete your mission faster and quieter than ever before. The electric-powered motor is silent, combined with a Shimano drivetrain and color LCD control panel to give you unprecedented control.
Built with high-quality components, a heavy-duty frame and 26-inch Fat Boy tires, our power bikes get you and your gear in and out easier than ever and in any weather condition. We also offer the Recon Scout, a folding mountain bike that can be stored or deployed in a compact area!
What it Folds?
Recon Power Bikes is proud to offer the new Folding SCOUT. A stealthy new design in a folding ebike. This bike will fold in half and the handle bars will fold down to fit in a compact area or be suitable for deployment from an airborne asset. Mag wheels have replaced the spokes for durability and a 500 watt electric motor powered by a 48 volt lithium ion battery give you an extended range. The 4" fat tires (with puncture protection) offer a stable comfortable ride for just about any size rider. It has a high loading capacity and does not require fuel. It can be folded or deployed in under 15 seconds.
The Scout was designed as a high performance electric mountain bike in a compact package. It can easily fit through the cargo door of a military aircraft to deploy with an airborne ranger. When the soldier hits the ground he has a silent means of transportation, effectively bridging the gap between walking and deploying heavy loud military vehicles.
Extend Your Mission with Power Bike Accessories
Recon Power Bikes offers a wide range of accessories for our electric mountain bikes, including additional storage, extra batteries, bike trailers and solar battery chargers. Affordably equip your electric mountain bike with everything you need for a successful mission!
Evaluate Our All-Terrain eBikes Today!
Recon Power Bikes proudly offers a wide variety of all-terrain ebikes to best suit your needs and budget. We can customize a bike to perform with the rigors of your mission. Take a closer look at each of the best electric mountain bikes we have to offer and request a demonstration or quote today!